cbse correspondence admission class 10th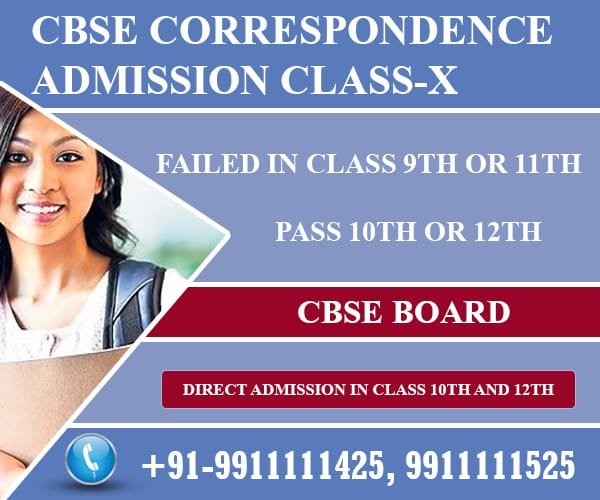 Cbse Correspondence 10th Class Admission 2023-2024

Welcome Students for CBSE correspondence admission for class 10th. If you want to study privately 10th class from CBSE board than CBSE correspondence admission is the best way to study. In this the students have no burden of attending regular school. Also if you are fail in class 9th or school dropout and now want to complete your studies and pass the class 10th board exam contact us immediately.
CBSE Correspondence form For admission to class 10th 2023-2024.
CBSE Correspondence form class 10th is the way you can take to apply for your CBSE correspondence admission class 10th. CBSE PATRACHAR SCHOOL is the oldest most popular institute in Delhi. Since the year 1987 we are in the service of helping school student community. Their expert teaching professionals have enabled thousands of  students, to pass exams conducted by CBSE and Patrachar Education Board. All of these students happily thank us.
If you approach us for your admission and coaching for class 10th, our experts will get you CBSE correspondence admission for 10th.
We will assist you in filling up the form; attaching necessary documentary proof required; getting you admit card and help getting hall ticket for 10th class public examination.
You can join as private candidate. Your passing gets assured with the efficient training you get, in the coaching classes we conduct in our study centers. You can join according to your convenience of timings in the morning, evening and week-end classes.
By the vigorous training you get through the special coaching classes you become more knowledgeable. Getting excellent marks becomes very easy thus.
The circumstances under which student frustrate in their school studies by failure, at the important stage of their school-life and how can they overcome this hurdle, with confidence and renewed vigor are explained here under.
cbse correspondence admission form class-10th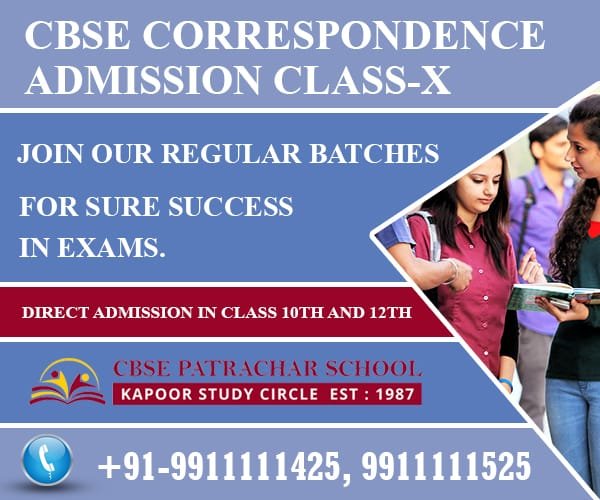 Cbse Correspondence 10th Admission | Cbse 10th correspondence form | 10th from Cbse correspondence |
Importance of Studying CBSE 10th in Correspondence mode:
When the parents admit their wards in the 1st class of schooling, they feel proud that their son or daughter will one day become a "learned person" and bring forth immense satisfaction to the family. School studies up to the 9th standard go off smoothly. The real test comes only in the 10th standard.
This is a mile-stone in their studies. The examination at the end of the school year in 10th standard is a public examination, conducted by the government rules. Irrespective of the individual school, whether it is a government school or private school, the caliber of each student is tested vigorously, by the question papers set by a selected-team of educational experts, nominated by the respective state board of education.
It makes equality among students studying  all over the state. The result of the exam has deep impact in the student's life. If he or she passes, then they become eligible for further studies to the level of graduation. If they fail, they are denied further school-going life totally. They are out of school with a fail certificate and transfer certificate.
At such a tender age, the dreams and desires of these students come to an abrupt-end miserably. They cannot even seek decent employment anywhere.
But they need not worry anymore. By joining Kapoor Study Circle for CBSE correspondence admission for 10th standard, they can regain their school-life; and mingle in the main-stream of studies towards graduation; or else seek suitable employment with other skills obtained in various trades and professions.
Know More About CBSE Correspondence Admission Class 10th 2023-2024:
CBSE is a government of India education organization . Their objective is to provide secondary and senior secondary school education to all the students in India. In order to fulfil this objective, CBSE conduct board exams for 10th class and 12th class every year.
You sharpen your skill and knowledge in the subject by expert-coaching with modern equipment's, notes, guides, study-materials and answers to previous question papers etc.
Your success is assured this time!
For More Information:
Call: 9911111425, 9911111525