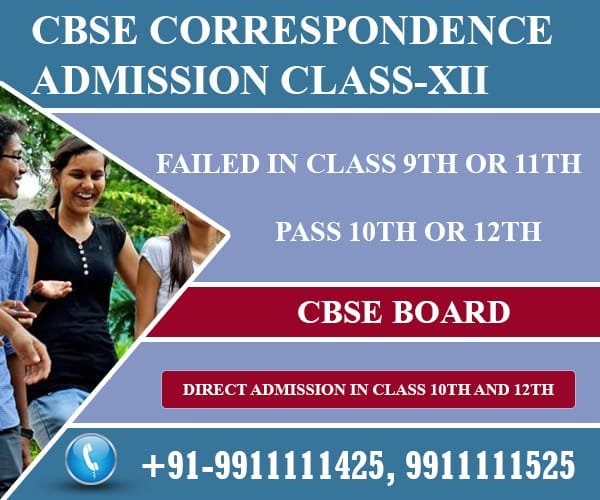 12th CBSE Correspondence Admission Form 2023-2024



CBSE correspondence admission Form for class 12th in Delhi for students who are fail in class 11th from school or 10th pass working persons who want to appear in CBSE board as private student with correspondence course. Contact us for admission information soon so that your admission for can be filled before the last date. First of all we shall guide you not only for admission but also for your studies for CBSE Correspondence class 12th
 

How to apply for 

CBSE CORRESPONDENCE Admission form 2023 class 12th?
CBSE CORRESPONDENCE Admission form class 12th can be filled with our help and guidance. Because we are engaged in the service of helping school student community. our expert teaching professionals have enabled thousands of fail & dropout students, to pass exams conducted by CBSE correspondence, and Patrachar Education Boards. So All of these students happily thank us.
Similarly, If you approach us for your admission and coaching for class 12th, our experts will get you CBSE correspondence admission for 12th and like wise you shall also be thank full for our services as a result of passing class 12th with good marks.
First of all We will assist you in filling up the form; attaching necessary documentary proof required; getting you admit card and help getting hall ticket for 12th standard public examination.
Also You can join as private candidate for coaching classes. Your passing gets assured by the efficient training you get, in the coaching classes conducted in our study centres. You can join according to your convenience of timings in the morning, evening and week-end classes. This is a good opportunity for you to appear for 12th class examination.
CBSE CORRESPONDENCE ADMISSION FORM 10TH 12TH
Cbse Correspondence 12th Admission | Cbse 12th correspondence | 12th from Cbse correspondence | Delhi
Importance of Studying CBSE 12th Correspondence Course :
When the parents admit their wards in the 1st class of schooling, they feel proud that their son or daughter will one day become a "learned person" and bring forth immense satisfaction to the family. School studies up to the 9th standard go off smoothly. The real test comes only in the 10th class.
Because This is a mile-stone in their studies. The examination at the end of the school year in 10th standard is a public examination, conducted by the government rules. Irrespective of the individual school, whether it is a government school or private school, the caliber of each student is tested vigorously, by the question papers set by a selected-team of educational experts, nominated by the respective state board of education.
Therefore they need not worry anymore. By joining Kapoor Study Circle for CBSE correspondence admission for 12th standard, consequently they can regain their school-life; as a result mingle in the main-stream of studies towards graduation; and hence seek suitable employment with other skills obtained in various trades and professions.
Know More About CBSE Correspondence Admission:
CBSE is formed by government of India. Their objective is to provide secondary and senior secondary school education to all the students in India. In therefore to fulfil this objective, they conduct CBSE board exams for 12th class every year. First of all it works under government therefore all the certificates issued have value all over the world. Therefore these certificates plays a very important role for good employment.
You sharpen your skill and knowledge in the subject by expert-coaching with modern equipment's, notes, guides, study-materials and answers to previous question papers etc.
IMPORTANT DATES, LAST DATE FOR CBSE CORRESPONDENCE ADMISSION IN CLASS 12TH
CBSE CORRESPONDENCE – 12th
Last Date 2023-2024
Examination Schedule
Admission Open
31st AUGUST 2023 (Without Late Fees)
From 1st AUGUST To 15th November 2023 (With Late Fees)
Practical's in Feb. & Theory Exam In The Month Of March Every Year
Documents required For CBSE Correspondence admission in class 12th and Eligibility
a) The students (Male & Female) who have passed or failed in class XI( Science/ Commerce/Arts) or its equivalent examination from recognized Board/University after passing class X examination on the basis of original SLC duly countersigned by Education Officer/Competent Authority.
OR
Those students (Male & Female) can take admission directly to class XII having at least one year gap after passing class X exam from recognized Board on the basis of original SLC duly countersigned by Education Officer/Competent Authority.
(b) Students seeking admission in class XII on the basis of duplicate copy of SLC duly countersigned by the Education Officer/Competent authority must furnish AFFIDAVIT in the prescribed format annexed with the prospectus.
Proof of Residence For CBSE Correspondence Admission class 12th:
As a proof of residence candidate may enclose self attested copy of any one of the following documents:
a) Ration Card showing the name of the candidate in legible form.
b) Another document is The Voter I-Card showing the name of the candidate in legible form. In case of Minor, the Voter I-Card of his/her parents is also acceptable.
c) Passport of student
d) Electricity bill in respect of Mother/Father name
e) MTNL landline phone in respect of Mother/Father name
f) Current Rent agreement in the name of parents/ candidate as a tenant.
g) Self attested Photocopy of Driving license in the name of candidate issued from Delhi Transport Authority.
h) Affidavit for residence proof in Delhi issued by SDM/lst Class Magistrate.
i) Self attested Photostat copy of Aadhar Card
SUBJECTS FOR CBSE CORRESPONDENCE 12th STUDENTS
Class
Stream
Language
Subject
Remarks
XII
ARTS
ENGLISH CORE
SANSKRIT CORE
HINDI ELEC.
URDU ELEC.
PUNJABI ELEC.
HISTORY
POL. SCIENCE
GEOGRAPHY
ECONOMICS
SOCIOLOGY
MATHS
HOME SCIENCE
PHYSICAL EDUCATION
1 OR 2 LANGUAGES + 4 OR 3 SUBJECTS & ONE ADDITIONAL SUBJECT FROM CONCERNED STREAM
XII
COMMERCE
ENGLISH CORE
SANSKRIT CORE
HINDI ELEC.
URDU ELEC.
PUNJABI ELEC.
ACCOUNTANCY
ECONOMICS
B. STUDIES
MATHS
GEOGRAPHY
PHYSICAL EDUCATION
1 OR 2 LANGUAGES + 4 OR 3 SUBJECTS & ONE ADDITIONAL SUBJECT FROM CONCERNED STREAM
XII
SCIENCE
ENGLISH CORE
SANSKRIT CORE
HINDI ELEC.
URDU ELEC.
PUNJABI ELEC.
PHYSICS
CHEMISTRY
MATHS
BIOLOGY
PHYSICAL EDUCATION
1 OR 2 LANGUAGES + 4 OR 3 SUBJECTS & ONE ADDITIONAL SUBJECT FROM CONCERNED STREAM
NOTE:-
SUBJECTS HAVING PRACTICALS
ACCOUNTANCY, B/STUDIES, GEOGRAPHY, SOCIOLOGY, HOME/SCIENCE, PHYSICS, CHEMISTRY, BIOLOGY, HISTORY, PHY.EDU