COMPLETE YOUR SCHOOL EDUCATION COMFORTABLY WITH OUR HELP! 
CBSE Improvement Exam Admission form Class 10th 2024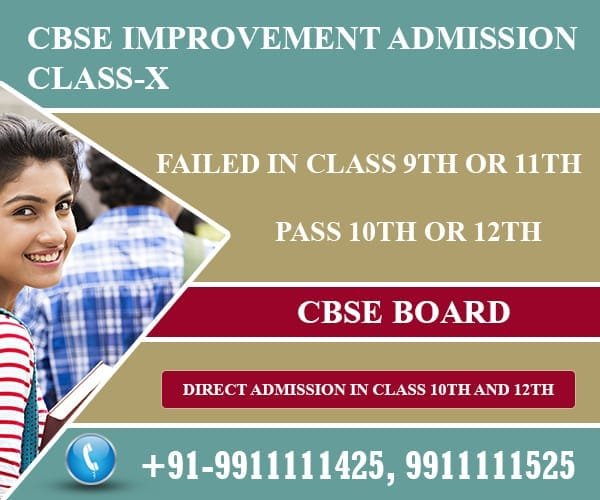 10th cbse improvement exam form 2024 – Welcome to Kapoor Study Circle's helpline for CBSE improvement admission for class 10th. If you have appeared in CBSE board exams for class 10th and you think your percentage is not good or if you are failed in you board exams of class 10th, contact us immediately with our help and guidance you can not only fill your improvement form but also score good marks by joining our classes for all subjects. If you have questions as what is "Improvement Admission for CBSE" and how it can help students, please contact us.
CBSE Improvement Exam – What Is It?
In india, millions of school students appear for secondary and senior secondary school CBSE board exam for 10th and 12th standard every year. Passing the  secondary school class 10th  is the key for opening up their future career, through school admission in class 11th for higher education.
Students approach to school for admission in class 11th with an option to study medical; engineering;  arts; science; commerce and computer science as main courses and lots of subordinate courses to these main subjects the students can open up their bright careers in various fields. They can earn well and settle in life comfortably. So this is the dream of the students, who study in class 12th senior secondary course – whether CBSE or State Board of Education.
While selecting the school for admission in class 11th, the parents always prefer famous and popular schools for admission. The reason is the education obtained from these institutions is considered meritorious among others. Admission percentage for admission is very high in these popular schools therefore to score good marks in 10th class is the target of every student.
Therefore, if the student passing out 10th standard wants to get admission in such prestigious schools, it is imperative that he/she should have exemplary marks in 10th standard. Mere passing alone 10th standard will not do to stave off the stiff competition from other students.
But CBSE improvement admission under the guidance by Kapoor Study Circle can open the best opportunity in your life once again. CBSE conducts improvement exams every year, in all the related subjects prescribed for 10th standard in cbse syllabus. By writing this exam and achieving high marks, the disappointed student can repair the damage to their mark sheet and go happily.
How we guide for CBSE Improvement Exam Admission:
CBSE Patrachar schoolis an educational organization in delhi. It has been serving the student community since 1987. Thousands of students failed in 9th standard and 11th standard have been helped to pass 10th standard and 12th standard respectively. This institution has thus made the future bright for these students.
If you have passed 10th standard and are not satisfied with your marks or the percentage is low, you can approach us. You can entrust the responsibility of getting you CBSE improvement admission, to sit for the improvement exam in 2021.
You get all the help from Kapoor Study Circle education professionals, in downloading the online application for CBSE improvement exam 2021; filling it up; preparing the supportive documents required to be attached with the application; getting your admission confirmed and getting you necessary admit card and hall ticket etc.
Special Coaching Classes for class 10th:
With 25 years of experience, the teaching professionals of Kapoor Study Circle know very well, how to make you achieve higher marks in all the 10th standard subjects. You can appear for CBSE improvement exam in one or more subjects. So whatever subject you wish to score higher marks, you can attend special coaching classes conducted in the morning, evening and week-ends, as per your convenience. Special guides, study materials and notes prepared by experts are supplied. You can clear all your doubts through previous question papers with their right answers.
With such great help it is sure thing you will get exemplary marks in 10th standard improvement exam!
Important Documents requires for admission in CBSE IMPROVEMENT admission class 10th
1. Admit cart of previous year examination of class 10th .
2. Photo copy of class 10th pass mark sheets.
3. 3 passport size color photographs of the student.
4. Aadhar card is mandatory for all CBSE admissions ,a photo copy of students aadhar card is also required for admission.
IMPORTANT DATES, LAST DATE FOR CBSE IMPROVEMENT ADMISSION IN CLASS 10TH
| | | |
| --- | --- | --- |
| CBSE IMPROVEMENT – 10th | Last Date | Examination Schedule |
| Admission Open | Check WWW.CBSE.nic.in for details of important dates and last date. | Theory Exam In The Month Of March Every Year |