CBSE Private Form For CBSE Private Candidate Admission class 12th 2024-2025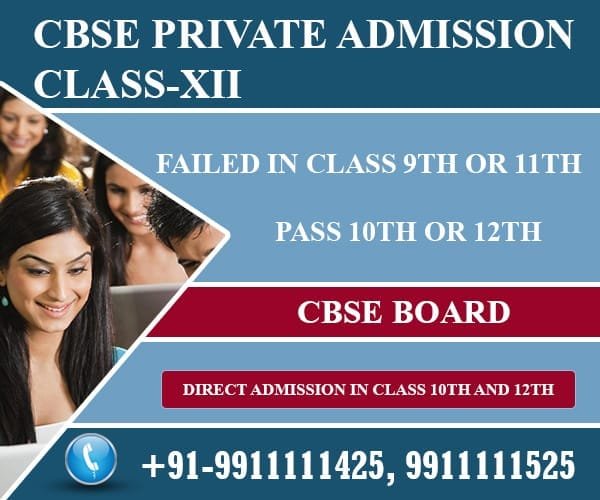 Cbse Private Candidate class 12th – Welcome to CBSE private candidate admission for class 12th helpline of CBSE PATRACHAR SCHOOL where we help the students for CBSE Private admission. The students who want to apply for class 12th admission from CBSE as a CBSE PRIVATE CANDIDATE can contact us for complete information about eligibility, important dates and documents required for admission.
12th CBSE PRIVATE FORM 2024-2025 ELIGIBILITY.



All the students who want to apply for CBSE PRIVATE CANDIDATE Admission form for CBSE BOARD exam 2024 must check the eligibility for admission. following categories of students can apply
a)   All the students Fail in 11th class from any recognized school.
b)   Missed the opportunity of writing 11th standard exam or
c)    Passed 10th class from any recognized board one year before and dropped out.
You can very well approach us for resuming school-life once again. Get admitted to CBSE private admission for class 12th, get all the help right from filling out the CBSE Private candidate application form; admit card and hall ticket etc. for appearing in CBSE 12th class public examination in March 2024.
Studying in senior secondary class, otherwise known as 12th class in Indian school system is the stepping stone for further studies. Only those who get a pass with credible marks stand a good chance to get admitted in colleges and universities that are considered prestigious in India and also abroad.
CBSE Private Candidate Admission 12th | CBSE Private 12th | CBSE Private Form Class 12th | CBSE Private Admission Form last date
Complete School Education for 12th with CBSE PRIVATE CANDIDATE FORM.
Now with CBSE PRIVATE CANDIDATE FORM any one can apply for CBSE 12th and appear for exams. Our schooling system for class 12th every student has to pass class 11th first than they are given admission in class 12th. But If the student fails in 11th class in one or more subjects, they will not be allowed to sit in 12th class. They have to study for one more year in the same class, get pass and then only can be admitted in class 12th.
Many students get dejection by this prohibition. There are other students, who after passing 10th standard public exam drop out from school life, but they can only join in 11th class and not 12th if the want to save time. There are still other students who missed the opportunity for any reason, to sit for 11th standard exam and thus forfeited the chance to get admission in 12th class.
For all those students, there is a way out. The Central Board of Secondary Education (CBSE) under the control of ministry of education, government of india, allows CBSE private admission for 12th class. By this second chance, all the above students can study CBSE 12th standard course and pass out with credible marks. Once this is achieved, they can pursue their individual goals in life. Hence CBSE PRIVATE CANDIDATE ADMISSION FORM 12th make it possible for these students to apply for direct admission in class 12th CBSE BOARD. Now these school fail and dropout students can sit in CBSE BOARD exams for class 12th in 202.
Join the Best coaching classes for CBSE PRIVATE CANDIDATE in Delhi.
At our centers we have experienced expert teaching professionals for special coaching of the students in all the subjects of CBSE 12th class syllabus. Modern infrastructure facilities exist in their study centers, where you can attend special coaching classes for 12th standard CBSE in morning, evening and week-ends according to your convenience.
You can benefit by the expertise of the faculty in preparing you for 12th class CBSE Private exam, with previous question papers, model-papers, guides, notes and study materials etc.
CBSE is very popular all over India as world-standard educational board. Students passing out 12th standard with senior secondary school leaving certificate from CBSE get preference in college and university admissions, in all graduation faculties.
You will pass CBSE 12th class as Private candidate more confidently with high marks!
IMPORTANT DATES, LAST DATE FOR CBSE PRIVATE CANDIDATE ADMISSION FORM 2024-2025 CLASS 12th:
CBSE PRIVATE ADMISSION – 12th
CBSE Private Last Date 2024-2025
Examination Schedule
Admission Open

(For female students only)

30 September 2024 (Without Late Fees)
From 1st October To 7th October 2024 (With Late Fees)
Practical's in Feb. & Theory Exam In The Month Of March Every Year
CBSE Private 12th | CBSE Private 12th admission forms | CBSE Private Forms Class 12th |
Documents required For admission in class 12th as a CBSE PRIVATE CANDIDATE

a) The students studying in a regular school ( Female) who have passed or failed in class XI( Commerce/Arts) after passing class X examination on the basis of original School leaving certificate duly countersigned by Education Officer/Competent Authority and attested photo copy of class 10th pass report card/mark sheet.
OR
Those students (Female) can take admission directly to class XII having at least one year gap after passing class X exam from recognized Board on the basis of original school leaving certificate of class xth pass duly countersigned by Education Officer/Competent Authority with photo copy of class 10th pass mark sheet.
SUBJECT LIST FOR CBSE PRIVATE CANDIDATE 12th STUDENTS:
SUBJECTS FOR CBSE PRIVATE 12th STUDENTS:
Class
Stream
Language
Subject
Remarks
XII
ARTS
ENGLISH CORE
SANSKRIT CORE
HINDI ELEC.
URDU ELEC.
PUNJABI ELEC.
HISTORY
POL. SCIENCE
GEOGRAPHY
ECONOMICS
SOCIOLOGY
MATHS
HOME SCIENCE
PHYSICAL EDUCATION
1 OR 2 LANGUAGES + 4 OR 3 SUBJECTS & ONE ADDITIONAL SUBJECT FROM CONCERNED STREAM
XII
COMMERCE
ENGLISH CORE
SANSKRIT CORE
HINDI ELEC.
URDU ELEC.
PUNJABI ELEC.
ACCOUNTANCY
ECONOMICS
B. STUDIES
MATHS
GEOGRAPHY
PHYSICAL EDUCATION
1 OR 2 LANGUAGES + 4 OR 3 SUBJECTS & ONE ADDITIONAL SUBJECT FROM CONCERNED STREAM
XII
1 OR 2 LANGUAGES + 4 OR 3 SUBJECTS & ONE ADDITIONAL SUBJECT FROM CONCERNED STREAM
NOTE:-
SUBJECTS HAVING PRACTICALS
ACCOUNTANCY, B/STUDIES, GEOGRAPHY, SOCIOLOGY, HOME/SCIENCE, PHYSICS, CHEMISTRY, BIOLOGY, HISTORY, PHY.EDU
Proof of Residence for 12th admission:
As a proof of residence candidate may enclose self attested copy of any one of the following documents:
a) Ration Card showing the name of the candidate in legible form.
b) the Voter I-Card showing the name of the candidate in legible form. In case of Minor, the Voter I-Card of his/her parents is also acceptable.
c) Passport of student
d) Electricity bill in respect of Mother/Father name
e) MTNL landline phone in respect of Mother/Father name
f) Current Rent agreement in the name of parents/ candidate as a tenant.
g) Self attested Photocopy of Driving license in the name of candidate issued from Delhi Transport Authority.
h) Affidavit for residence proof in Delhi issued by SDM/lst Class Magistrate.
i) Self attested Photostat copy of Aadhar Card
For More Information:
Call: 9911111425, 9911111525