Latest syllabus of CBSE Board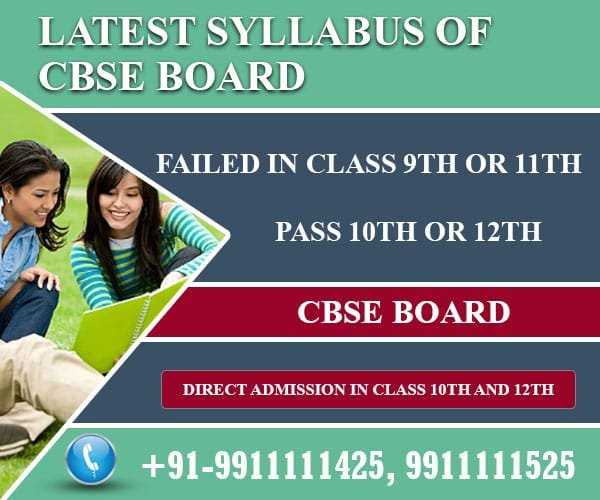 Latest syllabus of CBSE Board – WE MAKE YOUR FUTURE BRIGHT WITH DESIRED EDUCATION AS YOU WISH!
KNOW MORE ABOUT CBSE LATEST SYLLABUS FOR 10TH STANDARD AND 12TH STANDARD!
Welcome to kapoor study circle's helpline for CBSE Special Coaching Classes!
Kapoor Study Circle is an educational service organization. It has been serving the student community since 1987. The aim of this institution is to help students for admission in 10th Standard and 12th Standard, to get a second chance to Pass in their respective Exams with high marks.
Latest Syllabus of CBSE Board:
Central Board of Secondary Education is controlled by the Ministry of Education, Government of India. The objective of this educational wing is to provide world-standard education to Indian students, at the school-level. These Syllabuses are formulated by experienced educational experts, as guided by the country's prestigious educational institutions, namely Colleges and Universities.
The Policies of School Education are thoroughly discussed, finalized and evolved by eminent scholars; and accordingly the subjects are prescribed in the Syllabuses. The objective of these Syllabuses is to shape the student's knowledge, with a view to overcome the challenges faced in real-life of today.
Latest syllabus of CBSE Board
CBSE CLASS 10th SYLLABUS (CLICK HERE TO DOWN LOAD)
The 10th Standard student is made to learn 5 subjects as Core Subjects. These subjects are very familiar to the student, since they are imparted education from the 1st Standard in these Core Subjects. Only the level of in-depth knowledge and skill in these subjects is increased steadily from class to class.
CBSE CLASS 12th SYLLABUS (CLICK HERE TO DOWN LOAD)
The CBSE Syllabus prescribed for 12th Standard gives wider options for the student, to diversify focus on the given subject. Each subject is divided into many sections and sub-sections, to increase the awareness of the given subject, and knowledge-building exercise.
By learning these subjects and lessons illustrated in the class room attentively, the student gets familiarized with the subject. When repeating the same lessons at home, it gets imprinted in their memory.
How Latest CBSE Syllabuses are useful to Kapoor Study Circle students?
At the Special Coaching Classes of Kapoor Study Circle, the teachers take special care of the students, So the teaching method is such that each lesson in the subjects of Syllabus is explained, illustrated and clarified with minute details. The student, after this clear-explanation will have no doubt at all in the lesson.
Study materials, guides, notes and tips are provided; previous CBSE question papers and answers are supplied, to make the student practice them repeatedly.